The Book of Ruth: An Analogy for the Modern Church
Obed is the name of Ruth and Boaz's son. He is the father of Jesse, who was the father of David. The book of Ruth is both a historical account of actual events and a perfectly crafted analogy through which God speaks to us today about the Body of Messiah's obligation toward Israel. Consider the cast of characters and the literal meaning of their names, the locations in the story, and the picture the story paints. The central characters in the book are Naomi, Ruth, and Boaz. "Naomi" means "pleasant" in Hebrew, and she represents National Israel. Ruth is Naomi's daughter-in-law; her name means "friend." Boaz, Naomi's kinsman, is a type of Christ whose name means "in him is strength." Elimelech, Naomi's husband, means "my God is King." Elimelech and Naomi have two sons—Mahlon, meaning "sickly or invalid," and Chilion, meaning "pining away." Elimelech and Naomi's second daughter-in-law, Orpah, means "nape of the neck."
Leaving the House of God's Provision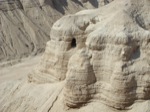 As the story opens, Naomi (representing Israel), and her husband, Elimelech, leave Bethlehem (which literally means "house of bread") because of a famine and travel to Moab. By doing so, they trade a scarcity of food in Israel for a scarcity of God's presence in exile. Naomi and Elimelech take their two sons Mahlon (sickly) and Chilion (pining away) with them. The names of these sons represent the awful condition that the people of God fall into when they intentionally exile themselves from His bountiful spiritual and natural blessings. Consider Leviticus 26:36-39: "As for those who are left of you, I will send defection into their hearts in the lands of their enemies; the sound of a driven leaf shall put them to hasty flight, and they shall flee as if from the sword, and fall when no one pursues them. They shall stumble over one another as if to escape a sword when no one pursues them; and you shall have no power to stand before your enemies. You shall perish among the nations; the land of your enemies shall eat you up. And those of you who are left shall pine away in their iniquity in your enemies' lands; also in the iniquities of their fathers shall they pine away like them." (NKJ)
While in Moab, the two sons marry Moabite (Gentile) women – Ruth and Orpah. The family of Elimelech stays in Moab for ten years. Eventually, Elimelech and his two sons die in exile, as prophesied in the passage from Leviticus. Naomi (National Israel) not only loses her belief that her God is King (because of the death of Elimelech-My God is King), but also loses her two sons. Thus, an entire generation dies in exile from the Land (an occurrence which foreshadows the shoa, the Holocaust).
As a result of the death of her entire family, Naomi loses her vision for the future. She realizes that she has no choice other than to return to Israel. Even though she makes a decision to return to the "land of her fathers," she does so a broken and miserable person. Stunned by the unexpected turn of events, she cries out, saying, "The Lord has dealt very bitterly with me." Like Naomi, millions of modern-day Jews who were in exile from their Land returned home after a holocaust in which 6 million of their people were killed. They, too, felt that the Lord had dealt bitterly with them.
Orpah and Ruth: Members of the Same Body

Orpah and Ruth represent the totality of the Body of Christ. Naomi doesn't believe that she has anything to offer her gentile daughters. Orpah, having no burden for Naomi's well-being, is persuaded to return to Moab. She mirrors those believers who have no real heart-burden for Israel. Ruth, on the other hand, chooses to draw near to her mother-in-law, Naomi, and refuses to be dissuaded even though Naomi rejects her three times. Ruth's love for Naomi is so passionate that her words are used even today as a wedding vow between couples entering into the deep commitment of marriage. "Entreat me not to leave you, or to turn back from following after you; for wherever you go, I will go; and wherever you lodge, I will lodge; your people shall be my people, and your God, my God. Where you die, I will die, and there will I be buried. The Lord do so to me, and more also, if anything but death parts you and me." (Ruth 1:16-17)
The "Ruth" segment of the Body shows her love for Israel by clinging to her, caring about her well-being, and refusing to be dissuaded by the harsh reality of modern-day Israel's rejection of the Gospel. How are the "Ruths" able to do this? God sovereignly "opens the eyes of their understanding" to this fundamental truth, and gives them grace to accomplish the task at hand. It is much easier to be against, or even ignore, the Jewish people, than to be involved with them. Most of the world has done it historically, is doing it currently, and will continue to do it until Messiah returns. But the "Ruth" Christians will not dessert Israel, because God has put in them both a zeal, and a passion, that will cause them, like the Apostle Paul, to desire Israel's salvation above all else.
Today, as in times past, God is raising up a "Ruth" generation. One of the important callings of the Body is to reveal The Jewish Messiah—and His great love—to unbelieving Israel, so that she can, in turn, be a light to the nations. Our acts of love toward Israel are nothing less than an expression of our love for Israel's God. The God of Abraham, Isaac, and Jacob. The one, true, God.
Pentecost in the Fields of Boaz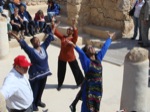 Naomi returns to the Land of Israel, along with Ruth, in the beginning of the barley harvest. Barley is the lowliest of grains. It is used to make "poor man's bread," and harvested at Shavuot, the Hebrew biblical festival the Greeks called Pentecost. Interestingly, this festival marks both the giving of the Law at Mount Sinai, and the birth of the Church.
At Naomi's urging, Ruth begins to glean barley for herself, and for her mother-in-law, in the field of a rich and mighty man – Boaz. Boaz is not only a close relative of Naomi, but a type of Jesus as well. Even though Boaz is Naomi's kinsman, she has no interaction with him, except through Ruth. What irony! Naomi's only hope is her gentile, tagalong, worthless, childless, daughter-in-law. Similarly, Israel's only hope is the faithful believer who cleaves to her. In fact, until God's appointed time, the only contact Israel has with Jesus, her kinsman redeemer, is through the Body of Messiah. On the other hand, Ruth does not know the laws of Israel. She must rely on Naomi to teach her about such things as the Levitical Law, which provides for the redemption of a widow, and her heritage.
Boaz sees Ruth's kindness toward Naomi, and is pleased. As a result, he gives her protection and great favor. "And Boaz answered and said to her, 'It has been fully reported to me, all that you have done for your mother-in-law since the death of your husband, and how you have left your father and your mother and the land of your birth, and have come to a people whom you did not know before. The Lord repay your work, and a full reward be given you by the Lord God of Israel, under whose wings you have come for refuge.'" (Ruth 2:11-12) Boaz also forbids Ruth to return to Naomi empty-handed. Ruth tells Naomi, ". . . these six ephahs of barley he gave me; for he said to me, 'Do not go empty handed to your mother-in-law.'" (Ruth 3:17) Similarly, Jesus always gives His Body something to share with Israel so that they too do not return "empty-handed."
Obed is Born

Boaz marries Ruth and she bears him a son named Obed. Naomi's name, family line, and heritage are miraculously restored. God makes a way where there is no way. "Then Naomi took the child and laid him on her bosom, and became a nurse to him. Also the neighbor women gave him a name, saying, 'There is a son born to Naomi.' And they called his name Obed, He is the father of Jesse, the father of David." (Ruth 4:16-17) The name Obed in Hebrew literally means both "service" and "worship." When we worship the God of Abraham, Isaac, and Jacob by serving His people, the Jews, Naomi is reunited with Boaz. Salvation comes to Israel through the seed called "service to God," and by the grace of God given to, and through, the Body of Messiah.
The Body performs its role of calling Israel back to faith by unconditionally loving her. We see this command of God clearly in both the Old and New Covenants:
"Rejoice with Jerusalem, And be glad with her, all you who love her; Rejoice for joy with her, all you who mourn for her; that you may feed and be satisfied With the consolation of her bosom, That you may drink deeply and be delighted With the abundance of her glory. For thus says the LORD: "Behold, I will extend peace to her like a river, And the glory of the Gentiles like a flowing stream. Then you shall feed; on her sides shall you be carried, and be dandled on her knees. As one whom his mother comforts, so I will comfort you; and you shall be comforted in Jerusalem." (Isaiah 66:10-13)
"For I do not desire, brethren, that you should be ignorant of this mystery, lest you should be wise in your own opinion, that blindness in part has happened to Israel until the fullness of the Gentiles has come in. And so all Israel will be saved, as it is written: The Deliverer will come out of Zion, and He will turn away ungodliness from Jacob; for this is My covenant with them, when I take away their sins." (Romans 11: 25-27)
Applying the Analogy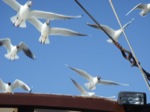 The first requirement for the application of the analogy set forth in the book of Ruth is that we-the Gentile Church-must be convinced that we SHOULD care about the Jewish people. To do so, we must understand the place of the Gentile Church in the New Covenant. Jesus Himself refers to us as "little dogs." "And behold, a woman of Canaan came from that region and cried out to Him, saying, 'Have mercy on me, O Lord, Son of David! My daughter is severely demon-possessed.' But He answered her not a word. And His disciples came and urged Him, saying, 'Send her away, for she cries out after us.' But He answered and said, 'I was not sent except to the lost sheep of the house of Israel.' Then she came and worshiped Him, saying, 'Lord, help me!' But He answered and said, 'It is not good to take the children's bread and throw it to the little dogs.' And she said, 'Yes, Lord, yet even the little dogs eat the crumbs which fall from their masters' table.' Then Jesus answered and said to her, 'O woman, great is your faith! Let it be to you as you desire.' And her daughter was healed from that very hour." (Matthew 15:22-28) And in Isaiah we read in Jesus' commission that His purpose is to bring Israel back to God. "And now the LORD says, Who formed Me from the womb to be His Servant, To bring Jacob back to Him, So that Israel is gathered to Him (For I shall be glorious in the eyes of the LORD, And My God shall be My strength), Indeed He says, 'It is too small a thing that You should be My Servant To raise up the tribes of Jacob, And to restore the preserved ones of Israel; I will also give You as a light to the Gentiles, That You should be My salvation to the ends of the earth.'" (Isaiah 49:5-6) God saw that Jesus was too wonderful to simply bring Israel back, so he sent Jesus also as a light to the Gentiles, to bring salvation even to the "little dogs."
Jesus told this parable: "Again, the kingdom of heaven is like treasure hidden in a field, which a man found and hid; and for joy over it he goes and sells all that he has and buys that field." (Matthew 13:44) His audience was made up of Jews, a people with a special relationship with their God. Their scriptures had taught them that THEY are God's treasure. "For you are a holy people to the LORD your God, and the LORD has chosen you to be a people for Himself, a special treasure above all the peoples who are on the face of the earth." (Deuteronomy 14:2) Thus, God saw the Jews, His special treasure, in the great field of the world. He wanted that treasure so badly that he bought the whole field with His blood – Hallelujah! Our chief goal, therefore, ought to be the same as God's—to bring Israel back to Him. Paul tells us in Romans how to go about this. "I say then, have they stumbled that they should fall? Certainly not! But through their fall, to provoke them to jealousy, salvation has come to the Gentiles." (Romans 11:11) Our love for the God of Abraham, Isaac, and Jacob, and His Messiah, draws Israel to Him!
Pearls of Great Price

Jesus continues with this parable: "Again, the kingdom of heaven is like a merchant seeking beautiful pearls, who, when he had found one pearl of great price, went and sold all that he had and bought it." (Matthew 13:45-46) Pearls are not kosher. They are the product of the oyster, an unclean animal. Therefore, Jesus' audience knew that He was not referring to them—He was talking about His love for the Gentiles.
In the book of Revelation, God reveals the New Jerusalem to John: "And he carried me away in the Spirit to a great and high mountain, and showed me the great city, the holy Jerusalem, descending out of heaven from God, having the glory of God. Her light was like a most precious stone, like a jasper stone, clear as crystal. Also she had a great and high wall with twelve gates, and twelve angels at the gates, and names written on them, which are the names of the twelve tribes of the children of Israel. The twelve gates were twelve pearls: each individual gate was of one pearl. And the street of the city was pure gold, like transparent glass." (Revelation 21:10-12, 21) Those gates made of pearl represent the Gentile believers! We are the gate through which Israel must pass in order to enter the presence of Almighty God! What a wonderful thing our Messiah has done!
The Obed Project

The Obed Project seeks to help Christians draw Israeli Jews back to their God through service. We, as Gentile believers, face many obstacles attempting to reflect Jesus while in Israel. The biggest problem is that, for the most part, Christians throughout the centuries have been exceedingly cruel in their interactions with the Jews. Modern-day Israelis are very familiar with the Crusades, the Inquisition, and certainly the Holocaust – all of which happened at the hands of people they would term Christians. What Jew would want to follow a Messiah who so clearly hates Jews? We must show Israel that the Jesus Who has been portrayed to them throughout history isn't the true Jesus at all. The first step towards accomplishing this goal is to insure that Christians touring the Land of Israel have a basic understanding of the Jewish roots of Christianity.
The Obed Project is committed to revealing God's heart, and unfolding plan, for Israel through daily teachings while on tour, coupled with evening meetings intended to solidify what has been learned during the day. We seek first to show believers the Land of Israel while giving them an accurate biblical perspective. Then we provide opportunities for believers to demonstrate their love for God's people through service. "I have set watchmen on your walls, O Jerusalem; they shall never hold their peace day or night. You who make mention of the LORD, do not keep silent, and give Him no rest till He establishes and till He makes Jerusalem a praise in the earth." (Isaiah 62:6-7)
Hello, Ruth . . . .